This story originally was published as the lead story in the Religion Section of the Dec. 19 – 20 Weekend Edition of the Brattleboro Reformer.
Thirty-five years ago, the Town of Brattleboro gave a homeless shelter run by Faith Ministries a December 25 deadline to close.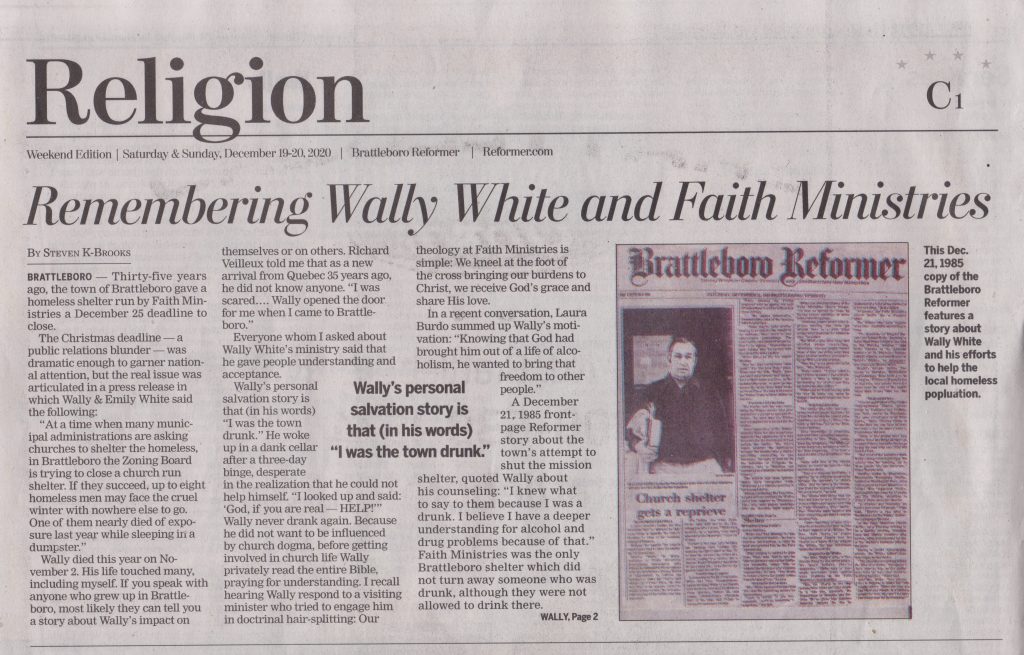 The Christmas deadline — a public relations blunder — was dramatic enough to garner national attention, but the real issue was articulated in a press release in which Wally & Emily White said the following:
"At a time when many municipal administrations are asking churches to shelter the homeless, in Brattleboro the Zoning Board is trying to close a church run shelter. If they succeed, up to eight homeless men may face the cruel winter with nowhere else to go. One of them nearly died of exposure last year while sleeping in a dumpster."
Wally died this year [2020] on November 2nd. His life touched many, including myself. If you speak with anyone who grew up in Brattleboro, most likely they can tell you a story about Wally's impact on themselves or on others. Richard Veilleux told me that as a new arrival from Quebec 35 years ago, he did not know anyone. "I was scared. Wally opened the door for me when I came to Brattleboro." Everyone whom I asked about Wally White's ministry said that he gave people understanding and acceptance.
Wally's personal salvation story is that (in his words) "I was the town drunk." He woke up in a dank cellar after a 3-day binge, desperate in the realization that he could not help himself. "I looked up and said: 'God, if you are real — HELP!'" Wally never drank again. Because he did not want to be influenced by church dogma, before getting involved in church life, Wally privately read the entire Bible, praying for understanding. I recall hearing Wally respond to a visiting minister who tried to engage him in doctrinal hair-splitting: Our theology at Faith Ministries is simple: We kneel at foot of the cross bringing our burdens to Christ, we receive God's grace and share His love.
In a recent conversation, Laura Burdo summed up Wally's motivation: "Knowing that God had brought him out of a life of alcoholism, he wanted to bring that freedom to other people."
A December 21, 1985 front-page Reformer story about the Town's attempt to shut the mission shelter, quoted Wally about his counseling: "I knew what to say to them because I was a drunk. I believe I have a deeper understanding for alcohol and drug problems because of that." Faith Ministries was the only Brattleboro shelter which did not turn away someone who was drunk, although they were not allowed to drink there.
At first, the Whites held prayer meetings in their home, and occasionally when someone was desperate for a place to stay, they put the person up for the night. Eventually, with help from volunteers, the large garage across the street from their home was heated and improved, and became the mission. At night it was a men's homeless shelter, but if a woman needed shelter, they would put her up in their home. Wally was unordained. He never made a cent as a minister. In the spirit of Paul's tent-making ministry, Wally subsidized the mission from his earnings as roofer in the Brattleboro Retreat's maintenance department.
Thursday evenings at the mission were community dinners, followed by hymns and intercessory prayer. Fondly, I remember Mary Organek who reminded me of my of my Aunt Yetta, always bringing a lot of wonderful food. Mary died last year at 92. And I was impressed by the graciousness of Wally's then 12 year-old daughter, Faith, serving spoon in hand, heaping food onto everyone's plate. But what still blows me away were the prayers in which people poured out their heart about their troubles, and received support from the gathered congregation. There was nothing formulaic about those prayers: They were passionate appeals.
On the outside of the mission, was a sign that read, "Come As You Are!" and a graphic of a compass with the words: "Going Around In Circles? Let Jesus Be Your Compass."
The first time I saw the red-lettered, hand-painted sign nailed to a tree on Frost Place: "Jesus Can Change Your Life," I said, "These people must be crazy fanatics!" I was with the late Heubner Wellman, a self-proclaimed Pagan. Heubner asked me not to be combative, because, he said, "These folks are good friends of mine." He brought me to their home, introduced me, and with a bit of conversation, my perspective changed.
After 32 years of marriage, Emily died.
Later Wally remarried. Together with his second wife, Linda, the mission continued until Wally became seriously ill in 2016. Wally and Linda were married for 28 years and had a son, Walter, who Linda told me cares for people much like his dad. I spoke with Linda, and asked her what she thinks was special about Wally's ministry. "It was special," she said, "because he accepts everyone." She pointed out that many people, "who would not go to a structured church," felt comfortable worshipping at Faith Ministries.
At 75, with health concerns, I am isolating from Covid and missed Wally's memorial. Paul Burdo, who was there, told me that Walter spoke eloquently about his father. Recounting Walter's eulogy, Paul said: "His dad would get up every day and say: 'Who can I bring a Blessing to today? Who can I encourage?'"
– 30 –